What We Are
What is Megaplex?
Since 2002, Florida's furry arts and entertainment convention has brought interactive fun and performance to Central and North Florida.
Megaplex's mission is to "provide for our membership a celebration of interactive arts and performance, with a primary focus on anthropomorphics and fantasy." Megaplex's programming focuses on a variety of arts and performances, from fursuiting, costuming and puppetry, to improvisational art and music. The convention has featured live concerts from professional a cappella groups, musicals, rock bands, and more.
The wide range of events at Megaplex traditionally includes Mascot Games, improv games, karaoke, live music, dances, stand-up comedy, and various panels hosted by our attendees, along with new content unique to each year. Throughout the weekend we also offer a Dealers Room and Artist Alley, and tabletop and video game rooms. Costuming, especially fursuiting, is very popular at Megaplex, and we have amenities for costumers including a "headless" lounge and photo shoot.
Each year Megaplex raises money to benefit an animal focused charity.
A Furry Con?
Furry cons—conventions for fans of "furry" characters—have been around since the beginning of the 1990s, and are growing larger and more numerous every year. The "furry fandom" centers on fictional animal characters with anthropomorphic, or humanlike, characteristics. These can be the characters you see in movies, comics, Saturday Morning cartoons and commercials. They can also be mascot characters, puppets, or literary characters. Creative fans commonly have furry characters conjured from their own imaginations, and share their creations by way of all types of art and performance. Costumed characters (usually called "fursuits") abound at furry conventions, interacting with attendees and with each other, and Megaplex is no exception!
A very detailed article about the furry fandom can be found on WikiFur.com.
Interested in learning more about furry conventions? Check out these fur cons around the world: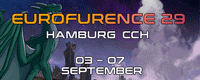 Florida United Furry Fandom, Inc.
Florida United Furry Fandom, Inc. (FLUFF Inc.) is a 501(c)(3) non-profit organization operating out of the State of Florida dedicated to the furry community and strives to further the education about anthropomorphism, anthrpomorphic arts, and other topics as they pertain to the furry fandom. FLUFF Inc. is also dedicated to raising money to help local wildlife and animal based charities.